On November 25th, , 2021, Treelion and Aereve held a memorandum of agreement signing ceremony in Tsim Sha Tsui, Hong Kong. Treelion's Vice Chairman Plato K.T. Yip and Aereve's CEO Andre Leung attended the signing ceremony. Witnesses to the signing ceremony included Duncan Wong, CEO of Crypto BLK, Stephen Wong Barrister of Lawtech from Gilt Chamber and former Privacy Commissioner, Eric Shun Kuen Chan, Deputy General Manager of CNCB Hong Kong, Ivan Lo, Compliance Officer of the ICO, Marie-Christine Lee, the founder of Sports for Hope Foundation and so on.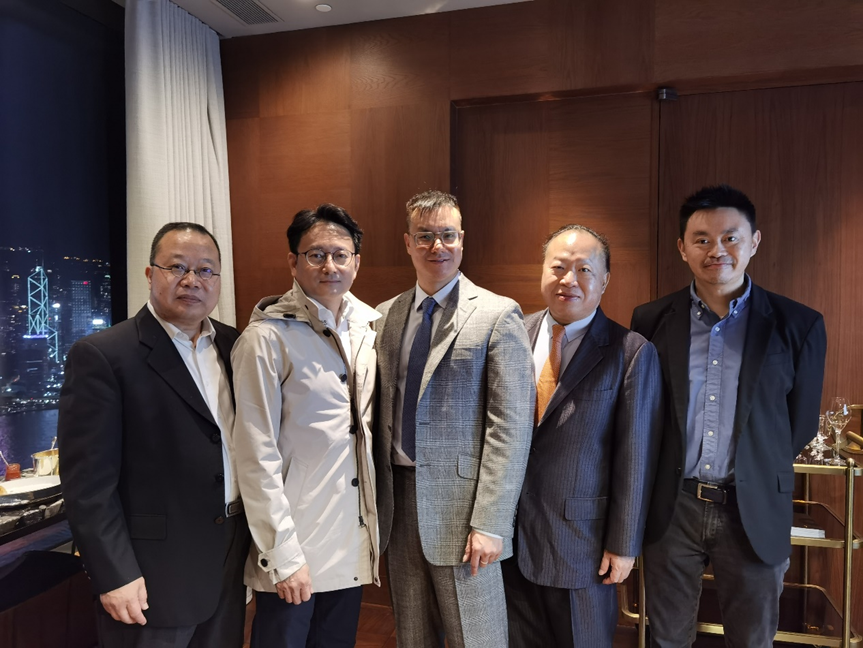 According to the MOU, both parties will follow principles of equality and mutual benefit, win-win cooperation and common development. Based on their respective professional capabilities, the two parties will focus on the coordinated development of environmental protection and technology, use cutting-edge technologies, jointly create a safe, reliable, and scalable digital value exchange system to help carbon-neutral goals.
Aereve will leverage Robotic Process Automation (RPA), Optical Character Recognition (OCR) and Network/Graph Analytics to its Translateral technology such as Natural Language Processing (NLP), Machine Learning and Blockchain technology in the domain of Anti-Money Laundering Control and Risk & Compliance, into Treelion's Carbon Credit Exchange ecosystems for strong regulatory compliance in both domestic, cross-border and global transactions.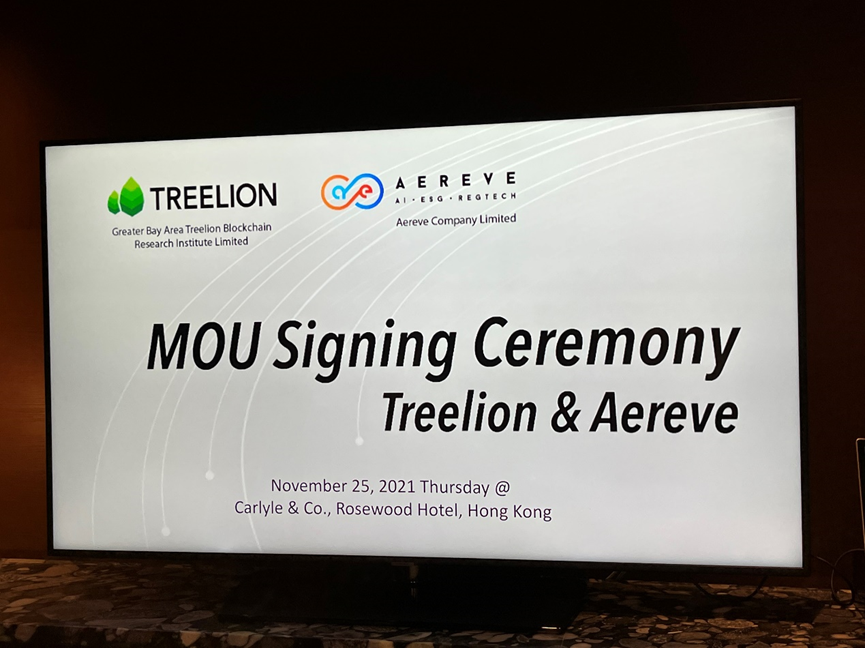 At the signing ceremony, Treelion's Vice Chairman Plato K.T. Yip said that Hong Kong is relatively lacking in technological innovation. It is very remarkable that Aereve can sow the seeds of innovation on this land. At the same time, Aereve's CEO Andre Leung is a responsible person, and will be a trustworthy and reliable business partner.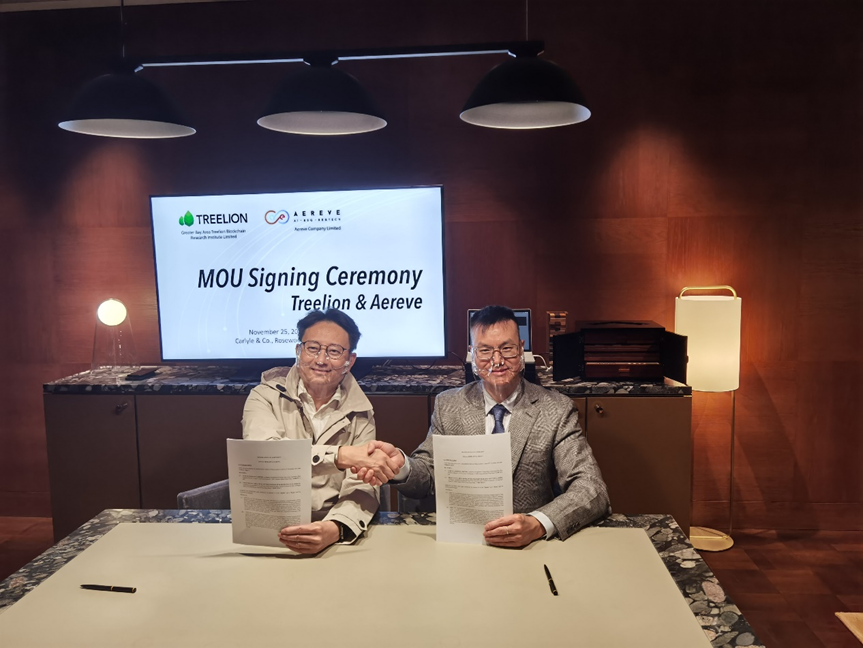 Treelion is an ESG Green Finance Carbon Credit Exchange Blockchain company, brings financial capital and social awareness to ecological business via a Green Digital Financial Infrastructure. Treelion is committed to creating a new trend of low-carbon life for all people, building a carbon account of individual/enterprise green lifestyle behavior, realizing credible tracking, metrics and incentives for individual/enterprise green lifestyle behavior, effectively linking individual green lifestyle behavior with enterprises and government, and arousing public awareness of participation in green, low-carbon and environmental protection. Treelion aims to build a complete platform for creating, registering, managing and trading carbon assets, realizing authentic and credible data, data security, timely and effective data sharing in the process from creation, collection, storage and trading.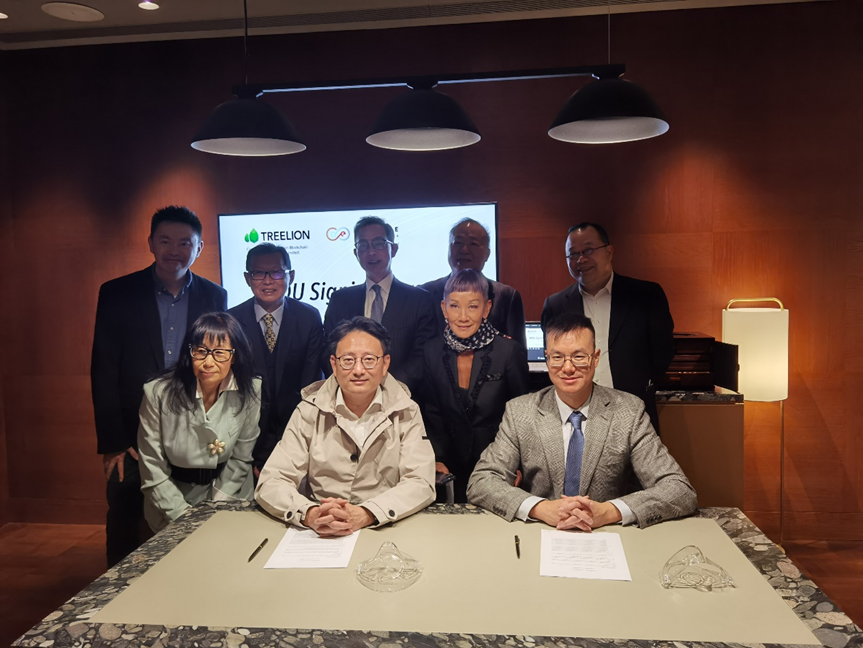 Aereve is an ESG Blockchain, Supervisory and Regulatory technology company based in Hong Kong and an expert in cross-border Fintech, accelerating the digital transformation to Risk & Compliance by bringing standard-defining technology to the BFSI, government, regulators, ecological business and green digital finance framework via Regtech, Suptech and Blockchain technology particularly to the Greater Bay Area. Aereve is an industry pioneer in both Operational and Supervisory Anti-Money Laundering (AML) control for Cross Border Fintech in terms of Identification, Fraud Consortium, Know-Your-Customer, Adverse Media and Name and Transaction Screening using native-to-native translateral NLP technology.