On 7 September 2021, Li Guang, the Deputy Director, Vice President of Chongqing Liang Jiang New Area China Merchants Group, and several leaders from the China Academy of Information and Communications Technology (CAICT) arrived in Beijing. Accompanied by Treelion's CEO Lu Qi, the delegation visited and studied Treelion's projects. Chairman Wang Weitao and Vice Chairman Plato Yip joined the meeting virtually in Hong Kong. Delegates from both parties had an in-depth discussion on Treelion's Chongqing Landing project and the strategic development prospects of "blockchain + Dual-Carbon" from Chongqing to the whole country. After the meeting, Li Guang expressed his strong support of Treelion's landing in Chongqing. He believed that the combination of Treelion's technology and Chongqing Liang Jiang New Area's development had a bright outlook.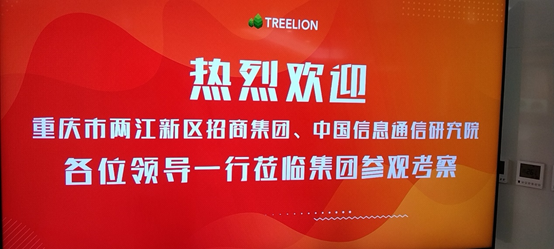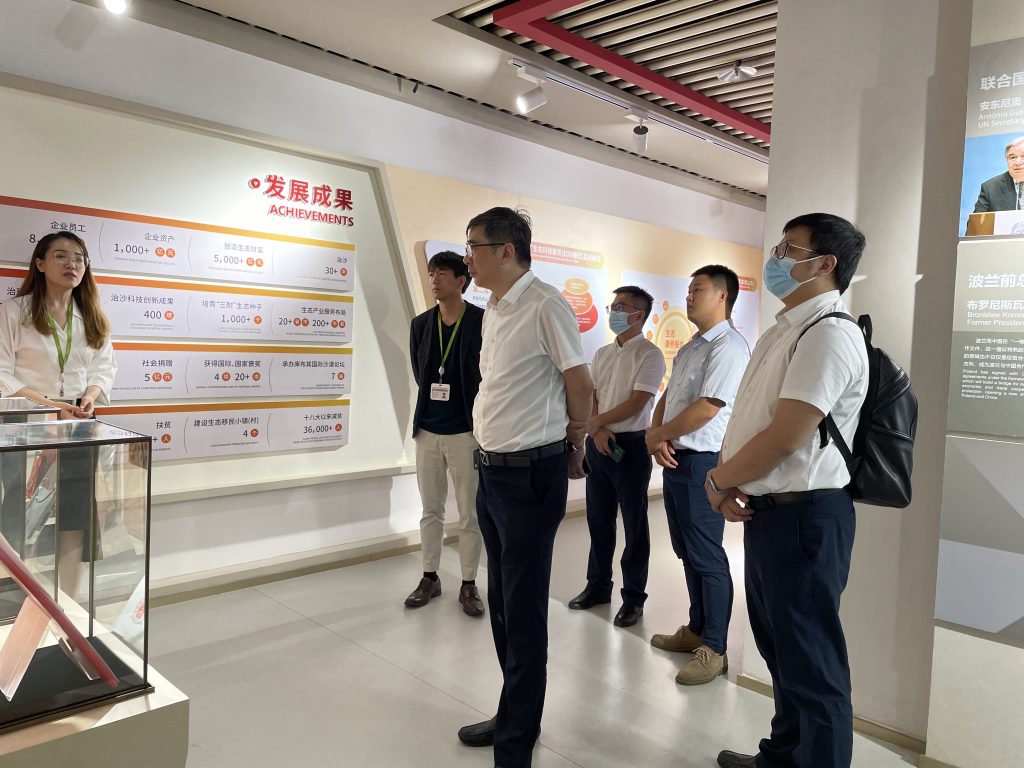 Delegation of Chongqing Liang Jiang New Area China Merchants Group and the CAICT Visited Company's Showroom
Delegation of Chongqing Liang Jiang New Area China Merchants Group and the CAICT visited the company's showroom with CEO Lu Qi's accompany. After learning that Treelion's strategic partner Elion Group had 33 years of experience in environmental protection and sand control and seeing Treelion's innovative approach of applying most advanced technology, such as blockchain, AI, and IoT, on environmental protection, Dual-Carbon goal, and green economies, Li Guang was very excited about what Treelion has achieved so far. He expressed that there were a great many opportunities to cooperate. He thanked Elion Group and Treelion for their contributions and efforts in building a community of human and natural life. With the combination of experience and technology, it is the time for fruity harvest.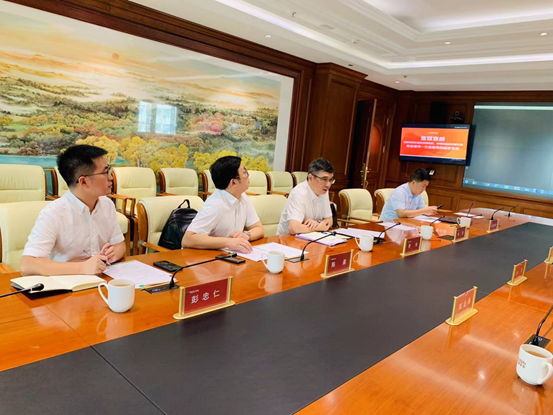 After visiting the showroom, Treelion's CEO Lu Qi invited the delegation to have a virtual meeting with Treelion's headquarter in Hong Kong. Chairman Wang Weitao and Vice Chairman Plato Yip joined the meeting online. During the meeting, Chairman Wang Weitao expressed his warm welcome and heartfelt thanks to the delegation. He mentioned that Treelion uses blockchain as its core technology, and has mature products and rich market experience in both Dual-Carbon and industrial chain traceability. It is believed that the in-depth cooperation can be carried out in the future. Li Guang replied: "Chongqing Liang Jiang New Area is a national-level new area approved by the State Council. It plays a leading role in the country, especially in the field of high and new technology. I am amazed after seeing things that Elion Group and Treelion are doing. The future of carbon inclusive and carbon trading requires a lot of data and algorithm support. I believe that the strong collaboration can create a huge spark in this field." In this regard, Vice Chairman Plato Yip introduced Treelion's global partners.
Combining the strengths of Treelion's global partners and Chongqing Liang Jiang New Area, we can consolidate domestic and overseas resources. As we act together, it will be a win-win situation for all parties.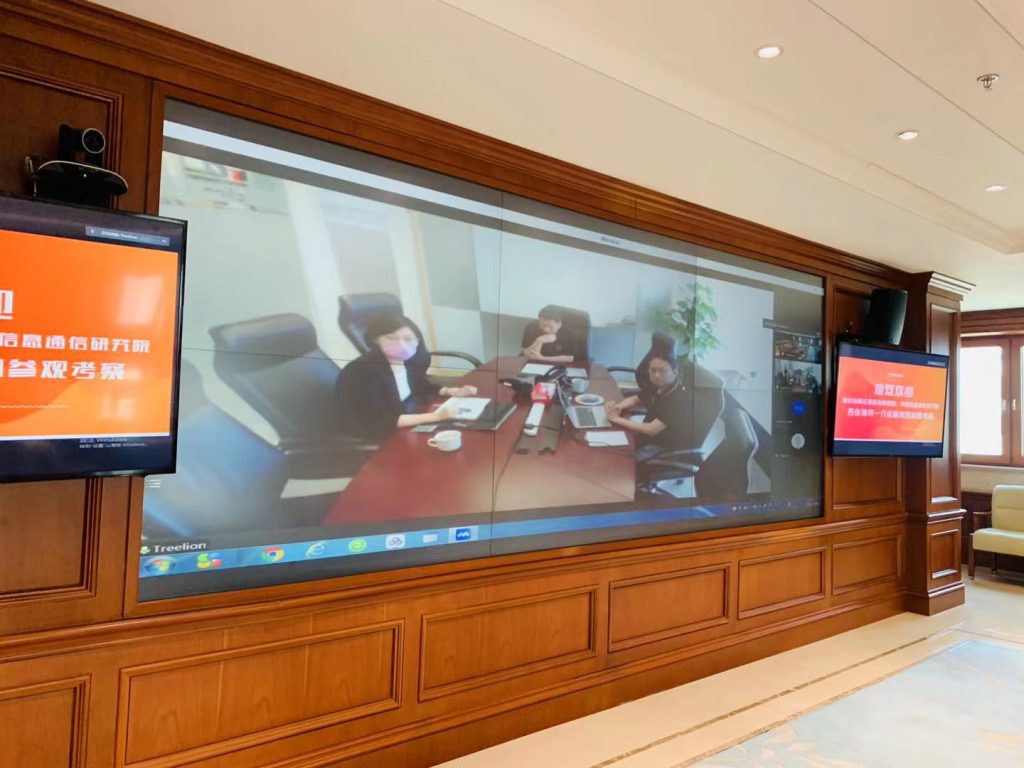 Treelion's Chairman Wang Weitao (middle) and Treelion's Vice Chairman Plato Yip (right) Joined the Virtual Meeting
So far, Treelion has been collaborating with the Ministry of Ecology and Environmental Protection and some other ministries, and has been connecting with a number of international organizations, which demonstrates Treelion's strong ability to access both domestic and foreign resources. From the research, certification, and dissemination of methodology to the overall planning and layout of carbon asset confirmation and trading, Treelion's innovative model has been applauded by the ministries' leaders. Backed by Elion Group's 33-year ecological resource advantage, Treelion has combined blockchain technology with the "Dual-Carbon" goal to incubate multiple carbon sink applications. In this regard, Director Gao Xinbo, the national super node planning and consulting director of the CAICT, said that he was very optimistic about Treelion's overall business model and business development plan, and looked forward to more specific cooperation in the near future.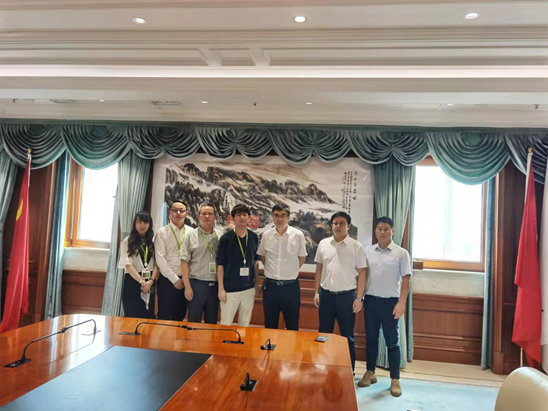 Treelion's CEO Lu Qi (4th from the left); the Deputy Director, Vice Chairman of Chongqing Liang Jiang New Area China Merchants Group Li Guang (3rd from the right)
Since September 2020, General Secretary Xi Jinping promised the world at the UN General Assembly that China would strive for CO2 emissions to peak by 2030 and strive to achieve carbon neutrality by 2060, Dual-Carbon has become one of China's biggest hotspots and focuses. Relying on its cutting-edge and solid technology and top-notch team, Treelion has been deeply involved in the environmental protection and low-carbon field for years. With its original business model, it has won the unanimous recognition of many ministries and international organizations. Treelion will continue to improve and optimize the product system, use the strong partnership network to revitalize the underlying logic of the green economy, inject new impetus into the development of the Dual-Carbon Goal business, and help China achieve the goal of "carbon peaking and carbon neutrality" at an early date.