(Hong Kong, September 28, 2021) Elion Foundation and Friends of the Earth (HK) co-hosted the Hong Kong Green Finance Parallel Session, "Green Finance to Drive a Low-Carbon Economy", today as part of the three-day Eighth Kubuqi International Desert Forum (KIDF) held in September 27 to 29, 2021 at the Kubuqi International Desert Forum Center, Inner Mongolia, China.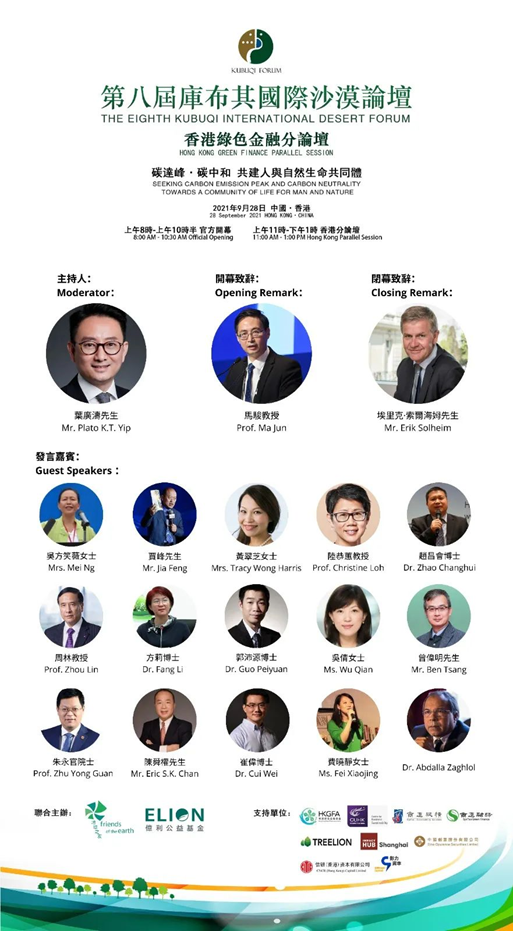 KIDF is jointly organized by China's Ministry of Science and Technology, National Forestry and Grassland Administration, People's Government of Inner Mongolia Autonomous Region, UN Environment and UN Convention to Combat Desertification as a platform to share insights on how the international community can implement UN's Agenda 2030 and achieve carbon neutrality through collaborative projects like the greening of the Kubuqi Desert.
With the overarching theme of "Carbon Emission Peak and Carbon Neutrality—Building a Community of Life Shared by Humankind and Nature", the participants discussed how Hong Kong, as an international financial center, can direct capital towards building a low-carbon economy and carbon neutrality and provided many valuable suggestions on the city's green finance development. Over 80 green finance experts and professionals attended the discussion, amongst which many are top experts, scholars and industry leaders in the field in Hong Kong and Mainland China.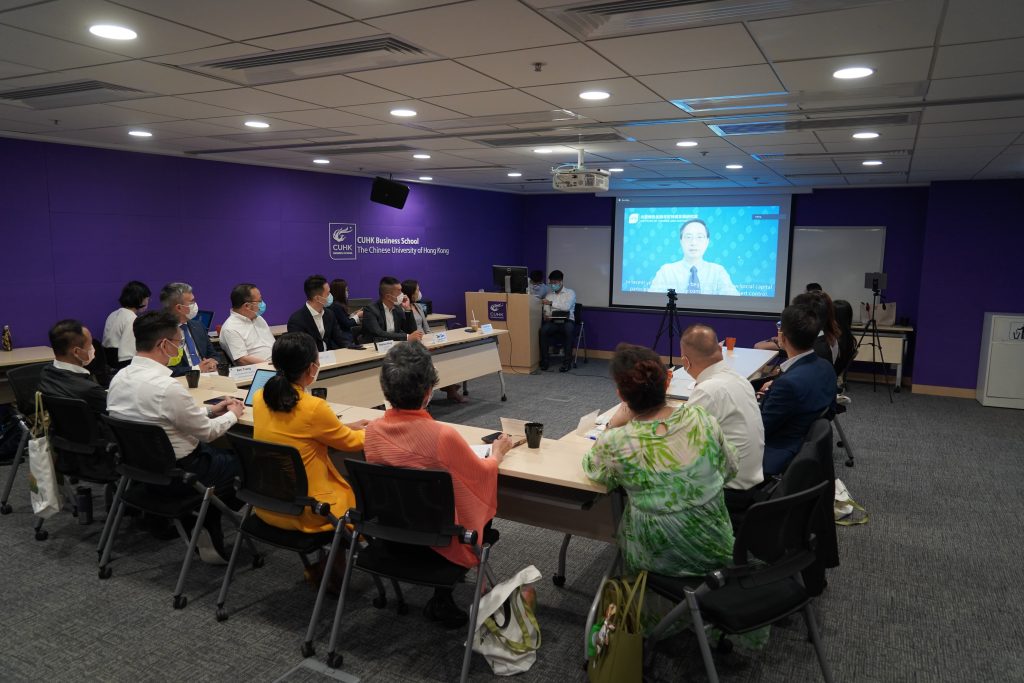 "Addressing climate risks has become the consensus of all major central banks and financial regulators in the world," said Ma Jun, Co-chair of the G20 Green Finance Study Group and Chairman and President of the Hong Kong Green Finance Association in his opening remarks. He added, "Human economic activities are leading to serious loss of biodiversity and the loss of biodiversity will have a very negative impact of global economic development and financial stability. In addition, this effect is nonlinear. With the intensification of biodiversity loss, the negative impact of economic activity and financial stability will accelerate. Agriculture, forestry and fishery, tourism, pharmaceutical, real estate, transportation and other industries will be directly or indirectly impacted by the loss of biodiversity. Financial assets in these areas will also suffer losses. Financial regulatory departments should begin to pay attention to financial investment activities' impact on biodiversity loss and impact on financial stability."
Tracy Wong Harris, Vice President and Deputy Secretary General of the Hong Kong Green Finance Association and Head of Sustainable Finance for Greater China and North Asia of Standard Chartered Bank, said, "Hong Kong already has a very well-established bond market on green social sustainability bonds. We have seen a very fast pickup on sustainability-linked products in both loans and bonds. Also, we have seen the birth of sustainable deposit, ESG derivatives and ESG trade. The Green and Sustainable Finance Cross-Agency Steering Group has recently set up a carbon market working group, co-chaired by the Hong Kong Stock Exchange and also the Securities and Futures Commission. I believe a high integrity in carbon market will play a key role in achieving the carbon neutrality goal."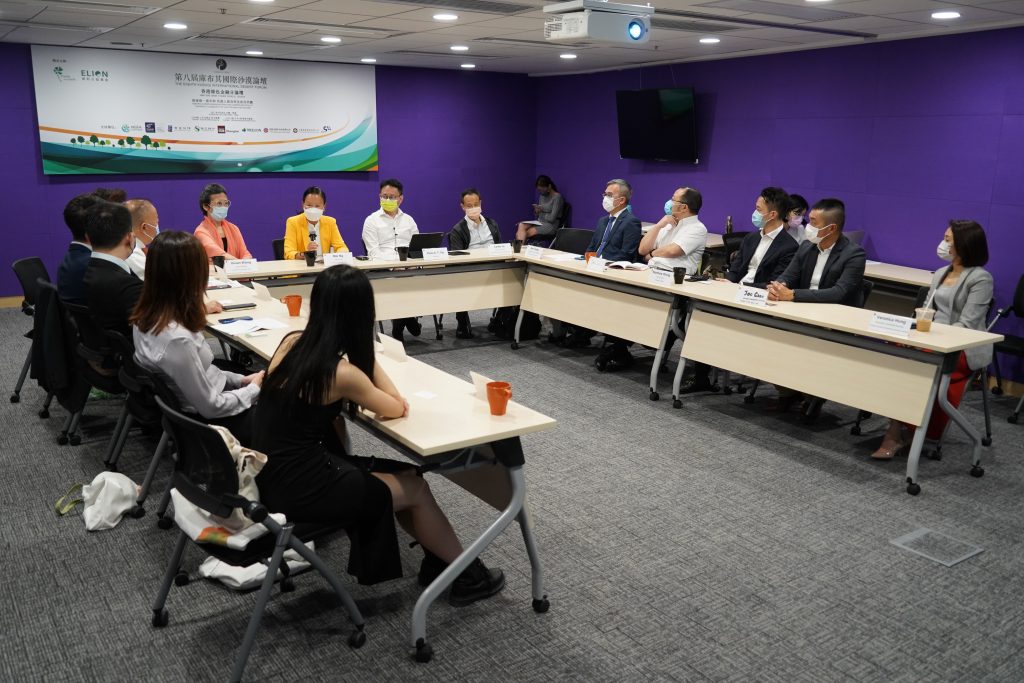 Mei Ng, Chairperson of Friends of the Earth (HK), said, "Hong Kong pledges to become Carbon Neutral before 2050. As a global financial hub, Hong Kong can and should accelerate transition to a low carbon economy sooner rather than later. It is time to show decisive climate leadership by repurposing assets, policies, strategies and networks to capture transformational shift to a climate safe economy."
"Unlocking stranded assets, communities and workforces can herald a resilient new economy and no-regret future. We are running out of time for incremental steps, generic targets and statements of broad principle, it is time to shift the world onto a more stable climate pathway," she added.

Erik Solheim, the Sixth UN Environment Executive Director and Under-Secretary-General of the United Nations, closed the floor and said, "We can have enormous economic growth and development and create several millions of jobs, while improving the lives of the people, while taking good care of Mother Earth with the same policies. Green tourism, green agriculture, electric transport—all these technologies are available, just for us to deploy them. For all these to happen, we need green finance. Hong Kong has a unique opportunity to establish itself as a green finance centre. You have good regulations in place, you have infrastructure, you have a vibrant financial centre, and of course, the biggest asset is you. With citizens, business, and the government all moving in the same direction, I am absolutely confident that Hong Kong will be one of the great global financial centres for the future."
In addition, many participants noted that green finance development needs the support of high-tech innovations. For example, in climate finance, the certification and trade of carbon credits require robust data support. Blockchain technology can aid in carbon accounting, registration, verification and transaction. Under the highly competitive global financial market, Hong Kong can act as an innovation hub for new green financial products and services. Many international corporations are headquartered in the city. Hong Kong can and should innovate and lead the world on ESG transformation.
Climate change is the biggest crisis human has ever faced. Elion Foundation and Friends of the Earth (HK) believe that green finance is a critical tool to alleviate global warming. This will allow Hong Kong to seize opportunities in the Greater Bay Area to become carbon neutral by 2050 and become the green finance hub in the Asia-Pacific region.